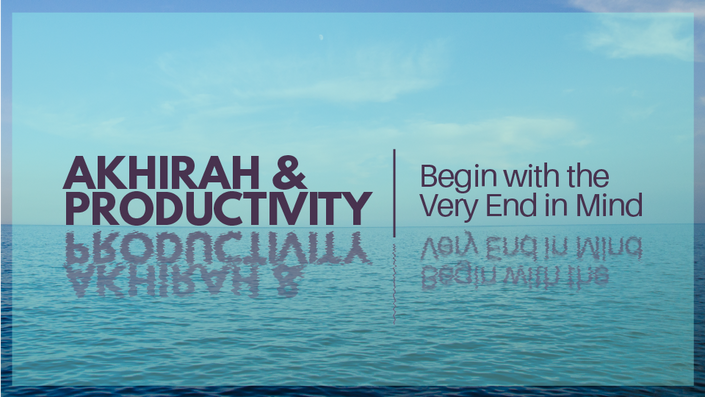 Akhirah and Productivity: Begin with the Very End in Mind
How the correct understanding of the afterlife can boost your productivity
Watch Promo
Success in this life and the next: How to create the balance
Our belief in the hereafter is one of the six pillars of faith; However, this pillar - if not understood properly - could have side effects including, losing interest in worldly affairs and a lack of productivity.
It seems that many of us fall into one of two extremes: either highly spiritual but not productive in worldly life, or secular/focusing on worldly success while not actively working for the afterlife. We need to learn the balance to get the best of both worlds.
What You'll Learn:
-The importance of having the right OS (Operating System) in order for your mind, body, and soul to function in the best way possible.
-How the Akhirah mindset can boost your productivity, success, and your worldly affairs.
-How the Akhirah creates a fire within our hearts that does not stop at feelings or emotions, but drives us to act wisely and effectively in the spiritual, social, and physical spheres of our lives.
-Clearly define your investment for the afterlife in terms of planting seeds; this mindset should boost your goal setting and help you focus on your goals.
-Creative ways to visualize the time we spend on earth, and compare it with the bigger picture of Dunya+ Akhirah.
-How to move the Akhirah mindset from a belief system into your everyday planning, goal setting, and relations.

Course Outline
Duration: 90 Minutes
1: Introduction: Akhirah & Productivity - Connecting the dots
2: The Psychology of Mortality: How a reminder about death should influence you
3: The Right Operating System: How death should NOT influence you
4: The Akhirah Mindset: Life planning through planting seeds
5: Going beyond personal goals: planting seeds for the greater good
6: Making sense of our time spent on earth
7: Ten steps to move the Akhirah mindset from a belief system into an actual to-do list
Your Instructor
Dr. Mohannad Hakeem is a motivational speaker, youth mentor, and a freelance Imam residing in Dearborn, Michigan, USA.
Dr. Hakeem earned his PhD in Mechanical Engineering and currently works as a full time research engineer at Ford Motor Company – Research and Innovation Center. To date, he has authored 50 invention disclosures and 10 technical papers.
He enjoys teaching about the Tafsir (exegesis) of the Qur'an, Fiqh of leadership, Islamic history, and the Seerah (Biography) of The Prophet Muhammad [saw].
He frequently produces video reminders on his blog mhakeem.com and contributes articles to Islamic publications such as The Daily Reminder Network and Aboutislam.net.
Class Curriculum
Lecture 1
Available in days
days after you enroll
Lecture 2
Available in days
days after you enroll
Lecture 3
Available in days
days after you enroll
Enroll in the Academy NOW to Get This Course + More!
By enrolling into the ProductiveMuslim Academy, you'll have access to this course + all the other courses that ProductiveMuslim produces in addition to exclusive access to our book club, monthly webinars, private Facebook group, and more - Enroll today!)