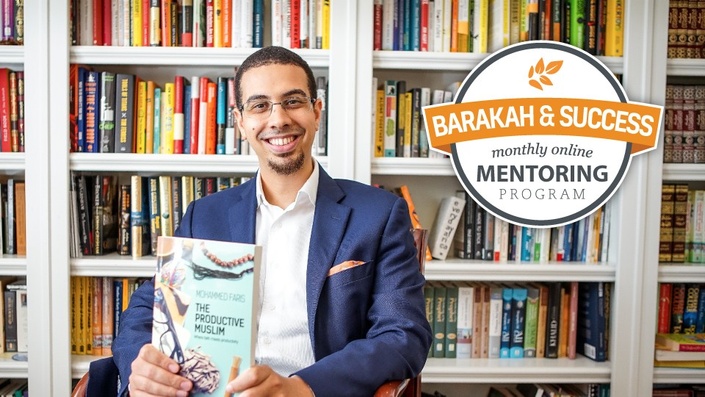 "Barakah & Success" Monthly Online Mentoring Program
Join Monthly LIVE group calls and have Mohammed Faris as your personal mentor to accelerate your growth & productivity.
Being productive and achieving one's life goals is a journey that requires a guide who can show you the way. More importantly, ensuring that these life goals are achieved without compromising one's spirituality is a powerful dimension that's often forgotten.
You can go it alone, but perhaps you won't get far and will struggle unnecessarily. That's why I've spent over 10 years learning, teaching, and refining my understanding of what we need to master our energy, focus, and time to achieve barakah and success in one's life.

Join me and my mentorship community every month for a live conversation to answer your most pressing challenges that's stopping you from achieving Barakah and Success in your life. This will be an opportunity for us to meet in real time as we work together to achieve your goals and achieve a healthy balanced lifestyle.
We'll cover topics such as:

How to develop holistic well-being (spiritual, physical, financial, and social)
How to find barakah in your time and money with increasing responsibilities as the kids get older, parents are getting more dependent on you, finances are getting tighter, and work is more demanding.
How to tackle challenges with family and friends that hinder your progress.
How to overcome laziness, fight procrastination, and stay focused on what truly matters in life.
How to find time for yourself and go above the basics with your spirituality, health, and relationships.
And much more.
Think of this as your personal resource to help tackle the challenges that are hindering your personal and career growth, month after month.

How does it work?

Prepare your questions related to your most pressing challenges that's stopping you from achieving Barakah and Success in your life.
Tune in the call according to the schedule below and Listen in and ask questions on your LIVE monthly calls.
Experience simple, practical teachings each month to accelerate your personal growth & productivity.
When do the Group Calls take place?
Calls take place on the last Saturday of every Month (Gregorian) at 8am New York time.
Your Instructor
Mohammed Faris is an internationally sought speaker, coach, and author who spearheaded the niche of productivity and Islam. He's the founder of ProductiveMuslim.com, the popular online platform, blog, and productivity training organization and author of the new book "The Productive Muslim: Where Faith Meets Productivity".
Enroll in the Academy NOW to Get This Course + More!
By enrolling into the ProductiveMuslim Academy, you'll have access to all our courses and for premium members you'll have exclusive access to our book club, monthly mentorship calls, private Facebook group, and more - Enroll today!
This course is not open for enrollment.