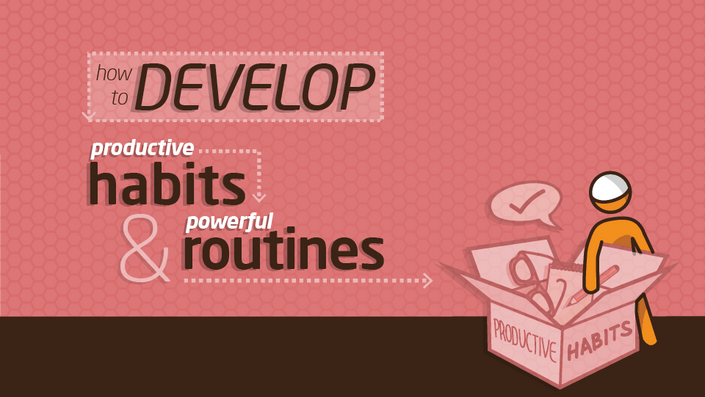 How to Develop Productive Habits & Routines
The Prophet ﷺ said "The most beloved of deeds to Allah are those that are most consistent, even if they are small" [Bukhaari]
Watch Promo
Learn to make small changes that generate big results.
Do you know the difference between successful people and unsuccessful people? It comes down to good habits vs. bad habits. Habits can change your life for good (or bad) and that's why it's so important to understand how they form, how you can change them, and which habits to develop or break. In this course, you'll learn simple yet practical habit development techniques that you can start implementing today and see the impact in your career, studies, business, or home.
Here's What You'll Learn
Understand why productive habits are more important than motivation or willpower to get things done
Discover the "Habit Loop" and how habits form.
Learn practical techniques you can use right away to replace old bad habits with a new ones
Discover strategies to change mental and emotional habits, not just physical habits
Learn actionable steps to avoid falling into when it comes to changing habits
Learn which habits to develop in your morning, evening, at work
Course Duration: 35 minutes
Each lesson in this course lasts a maximum of 15-20 minutes (most of the lessons are less than this). These easy-to-digest lessons are short enough to listen to on your lunch break or daily commute. We also encourage you to allow for 30 minutes after the course to complete the exercises and reflections.
By choosing to invest this short amount of time into this course, you'll gain practical knowledge, resources, tips, and spiritual tools that can change your focus for life, In sha Allah!

What Students Are Saying About This Course:
This was some of the best classes/courses I have attended to. I have been working on some new habits, and its going really great. Alhamdullillah. - Asma Tajik
"SubhanAllah Great Start.. Now I'm starting a new habit to maintain exercise for 30 days at least 13 minutes everyday...Bismillah" Mohd Omar Mohd Mokhtar

Your Instructor
Mohammed Faris is an internationally sought speaker, coach, and author who spearheaded the niche of productivity and Islam. He's the founder of ProductiveMuslim.com, the popular online platform, blog, and productivity training organization and author of the new book "The Productive Muslim: Where Faith Meets Productivity".
Class Curriculum
Welcome to the course
Available in days
days after you enroll
Lesson #1
Available in days
days after you enroll
Lesson #2
Available in days
days after you enroll
Enroll in the Academy NOW to Get This Course + More!
By enrolling into the ProductiveMuslim Academy, you'll have access to this course + all the other courses that ProductiveMuslim produces in addition to exclusive access to our book club, monthly webinars, private Facebook group, and more - Enroll today!)