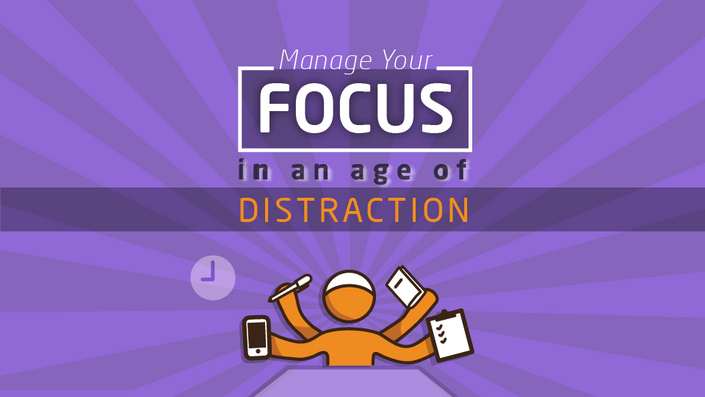 How to Manage Your Focus in an Age of Distraction
Why is it so hard to sit down and just focus on a single task?
Watch Promo
How many minutes can you focus on a single task without getting distracted?
If you were like most important, your focus would last between a few minutes to a maximum of 10-15 minutes. In today's day and age, focus is one of the biggest productivity challenges most of us face. However, did you ever wonder why you're easily distracted and what can you do to actively improve your focus muscle? In this course, you'll learn how to beat distraction by understanding the importance of focus, what you need to stay focused, and practical tips you can use right away to improve your focus.
Here's What You'll Learn
Discover why focus is crucial to be productive
Understand the underlying reason why you can't focus (don't just blame technology)
Understand the three types of focus.
Learn how to manage the three biggest external distractions
Learn how to manage Internal Distractions
Find out the truth about multitasking and why you should adopt uni-tasking instead
Practice spiritual & physical tools that will develop the foundation that solidifies in-built focus in everything you do
Learn about tools that support strengthening your focus muscle, including:

An online tool to create a "solitude zone" and avoid online distractions like Facebook, YouTube, and other productivity killers
Tools that will declutter your mind
How to practice integrating focus sessions in your daily routines
Course Duration: 50 minutes
Each course lesson lasts a maximum of 10-15 minutes (most of the lessons are less than this). These easy-to-digest coursees are short enough to listen to on your lunch break or daily commute. We also encourage you to allow for an 30 minutes to an hour to complete the exercises and reflections of each course.
By choosing to invest this short amount of time into this course instead, you'll gain practical knowledge, resources, tips, and spiritual tools that can change your focus for life, In sha Allah!

What Students Are Saying About This Course:
"I just finished the Focus Management course and SubhanAllah - my big problem all this time was I wasn't focusing! Subhanallah, I've been implementing what I've learned, and the change in my life has surprised me! Walahi Jazak Allahu khair. May Allah reward you and the team so much! Your efforts are truly changing lives! Keep up the awesome work!" ~ Ahmad Mohamad

Your Instructor
Mohammed Faris is an internationally sought speaker, coach, and author who spearheaded the niche of productivity and Islam. He's the founder of ProductiveMuslim.com, the popular online platform, blog, and productivity training organization and author of the new book "The Productive Muslim: Where Faith Meets Productivity".
Class Curriculum
Welcome to the Course
Available in days
days after you enroll
Lesson #1
Available in days
days after you enroll
Lesson #2
Available in days
days after you enroll
Enroll in the Academy NOW to Get This Course + More!
By enrolling into the ProductiveMuslim Academy, you'll have access to this course + all the other courses that ProductiveMuslim produces in addition to exclusive access to our book club, monthly webinars, private facebook group, and more - Enroll today!