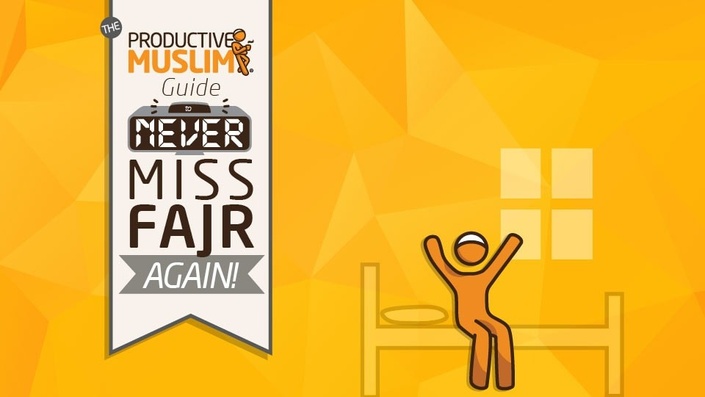 How to Never Miss Fajr & Morning Routines (Again!)
The Prophet ﷺ said, "The early hours are blessed for my nation". [Tirmidhi]
Watch Promo
Do You Want to Easily Wake Up For Fajr, Every Day, Without Fail?
If you've been struggling with waking up early and praying fajr on time; this course will teach you the practical tips to easily wake up for Fajr and make most of the early hours in sha Allah.
Here's What You'll Learn
Why waking up early (especially for Fajr prayer) is critical for your personal development and spiritual, emotional and social well being.
How to wake up for Fajr every day with energy and purpose
What are the spiritual tools that overcome the classic shaytan trick of "just 5 more minutes"
What tips you can practice to stay up after Fajr and maximise your barakah in the early morning hours.
Course Duration: 50 minutes
Each lesson in this course lasts a maximum of 10-15 minutes (most of the lessons are less than this). These easy-to-digest lessons are short enough to listen to on your lunch break or daily commute. We also encourage you to allow for 30 minutes period after each course to complete the exercises and reflections.
By choosing to invest this short amount of time into this course, you'll gain practical knowledge, resources, tips, and spiritual tools that can change your focus for life, In sha Allah!
Class Curriculum
Welcome to the FAJR Course
Available in days
days after you enroll
Lesson #1
Available in days
days after you enroll
Lesson #2
Available in days
days after you enroll

What Students Are Saying About This Course:
"SO MANY GOODNESS IN WAKING UP EARLY!!! MASYA- ALLAH.. IT REALLY "WOKE ME UP" from this lesson... I NEVER WANT TO MISS FAJR AGAIN!! I really need to write all the points down, so its a reminder to me of all the abundance of goodness it can give me by waking up.. I think the most important reason is you will get the sense of BARAQAH when you wake up and worship Allah early in the morning.." - Ameera
"This course has made me think again about my areas of weaknesses so re-organising my routine. JazakAllah Khair. May Allah reward you for your efforts, Ameen." - Exodus

"I have already enrolled in your academy and one of the first courses I have started is the How to Never Miss Fajr again and morning routines, and I must say Alhamdulillah although I have only ever missed half a dozen fajr prayers in the last 10 years or so, this course has taught me how to sleep better meaning I am waking up better and insha'Allah it will get me back to praying tahajud like I used too in the past." - Wassim
Your Instructor
Mohammed Faris is an internationally sought speaker, coach, and author who spearheaded the niche of productivity and Islam. He's the founder of ProductiveMuslim.com, the popular online platform, blog, and productivity training organization and author of the new book "The Productive Muslim: Where Faith Meets Productivity".