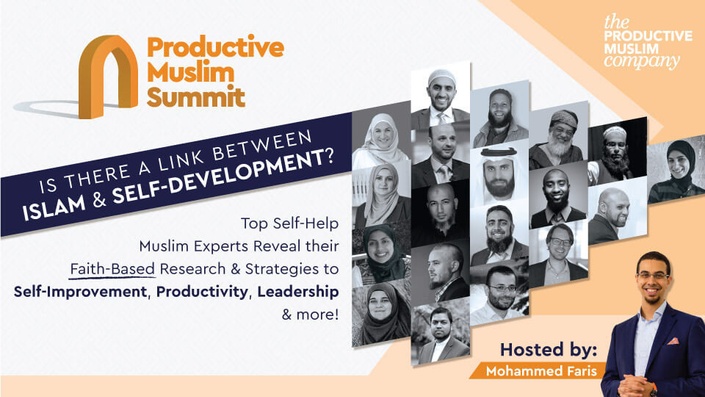 Productive Muslim Summit 2016
Get Exclusive Access to Interviews with Muslim Self-Help Experts Who Reveal the Powerful Link Between Islam & Self-Development
Watch Promo
About the Summit
In December 2016, Productive Muslim team held one of the largest online virtual conferences on Islam & Self-Development, attracting over 5000 attendees, all learning practical tips about how Islam as a faith and way of life connects to important personal development topics such as: Creativity, Productivity, Leadership and more.
The Offer
If you join ProductiveMuslimAcademy today you'll have access to all video and audio recordings from the summit + transcripts for all the interviews, in addition to access to the remainder of ProductiveMuslimAcademy courses, book club, and secret Facebook Group.
Here's What You'll Learn from the Summit Interviews:

Make a Life, not a Living
A life without a vision is like a journey without a destination
Prophetic Leadership: 11 Qualities that Changed the World
Non-Negotiable Self-Care for His Sake
Creativity, Islam & Personal Development
How Islam helps us manage our digital lives in a meaningful way?
Creativity and Self-Improvement
How to Achieve Extraodinary Goals in our limited Lifespan
How can we implement Prophetic Nutrition into our lives
The Prophet (PBUH) as a Life Coach
Implementing Prophetic Communication Skills in our day-to-day lives
Mountains and Valleys of Money - Having Faith, Earning Wealth
A special form of spirituality
How non-urgent tasks are much more urgent than you think
How Islam helps us lead happy married lives
How Islam teaches us to beat bad habits? (e.g. Pornography addiction, etc)
How Prophet Muhammad (PBUH) developed leaders around him and how you can do too?
How the Seerah can make your Life Extraodinary
The Awakened Muslim: Looking at Life through an Akhira Perspective
Who Are the Speakers?
Saiyyidah Zaidi, Digital Entrepreneur & Life Coach, Saiyyidah.com
Yameenuddin Ahmed, Vice President, Timelenders.com
Nabeel Al-Azami, Managing Partner, Murabbi Consulting (UK)
Yasmin Essa, Founder, WellnessWithYasmin.com
Peter Gould, Chief Creative Officer, Zileej.com
Omar Usman, Founder, IbnAbeeOmar.com
Boonaa Mohammed, Spoken Word Poet & Creative, boonaa.com
Mirza Yawar Baig, President, Yawar Baig & Associates
Iman Salam, Founder, AfiyaLiveWell.com
Dr.Meraj Mohiuddin, Author, Revelation Book
Moosa Khoory, VP, Dubai Islamic Bank
Joe Bradford, Co-founder, MyWassiyah.com
Dr.Mohannad Hakeem, Research Engineer, Ford Motor Company
Fahed Bizzari, Entrepreneur & Time Management Advisor
Haleh Banani, Clinical Psychologist, Co-founder - 5PillarsofMarriage.com
Wael Ibrahim, Founder, Change-Wi.com
Mohammed AlMathil, CEO, Mohammed Almathil Consulting (MAC) LLC
Dr.Hesham Al-Awadi, Professor of History & International Relations, American University of Kuwait
Dalya Ayoub, Founder, Life Matters Academy

What Students Are Saying About The Summit:
"It's really exciting to be a part of this sesational summit. I must say that, the speakers are remarkable in their areas of discipline. All these are important to every person to live a balanced and fruitful life in this world while aiming at the hereafter as the final goal...All the contributions are priceless!" - Hassana Adamu
"I would like to thank the ProductiveMuslim team for another great effort you made with Productive Muslim Summit. By Allah it has opened my eyes a lot, to see the world with the lens of Islam.The best part of Productive Muslim ,which affected me so much it provides us "PRACTICAL TIPS". May Allah reward you all abundantly and give us strength to empower the Ummah". Fridavs

Your Instructor
Mohammed Faris is an internationally sought speaker, coach, and author who spearheaded the niche of productivity and Islam. He's the founder of ProductiveMuslim.com, the popular online platform, blog, and productivity training organization and author of the new book "The Productive Muslim: Where Faith Meets Productivity".
Frequently Asked Questions
When does the Academy start and finish?
The Academy starts now and never ends! It is a completely self-paced online experience - you decide when you start and when you finish.
How long do I have access to the Academy?
After enrolling, you'll have 1 year access to the Academy. You'll have unlimited access to everything in the Academy for as long as you're an active member and you can renew your membership every year.
What if I am unhappy with the Academy?
We would never want you to be unhappy! If you are unsatisfied with your purchase, contact us in the first 30 days and we will give you a full refund.