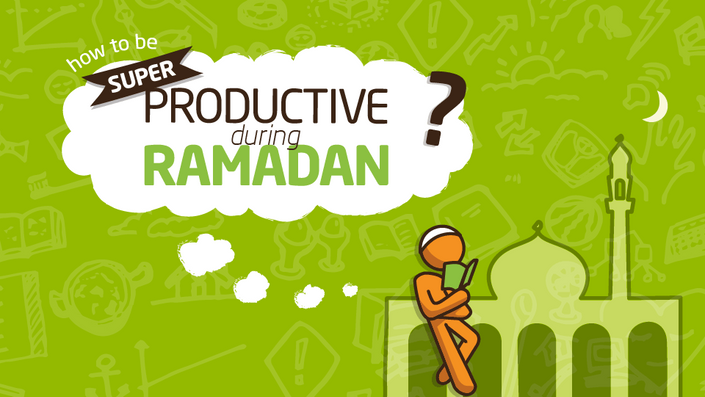 Productive Ramadan Online Course
Overcome your Ramadan challenges & achieve your Ramadan goals!​
Watch Promo
Would You Like to Make this Ramadan a Transformation Experience?
Learn the practical day-to-day solutions that prepare you mentally, physically, socially and spiritually for a powerful transforming Ramadan
This is not your typical course; this is the practical stuff – the stuff that you'd wish someone told you years ago so you can overcome your Ramadan challenges and dramatically improve your Ramadan experience in spirituality and inner transformation, In sha Allah.
Here's What You'll Learn
Module 1: The Basic Preparation for Productivity
The first step to effective change is proper preparation and understanding. In this module, you will clear away the misconceptions of productivity, and understand what productivity means in an Islamic perspective for dunya and akhirah.
You'll learn:
The definition of productivity physically, socially, and spiritually
How to manage going through the course in your busy schedule for maximum learning and benefit
The first step to productivity by breaking out of your comfort zone mindset to create new productive habits
Module 2: Productive Ramadan Thinking
How can you make Ramadan a transformational experience instead of just a month that passes you by? By increasing your awareness! When you investigate your root thoughts, you'll increase in awareness of yourself and awareness of Allah SWT, which can lead to some very powerful transformations in your daily life, even beyond Ramadan.
You'll learn:
A unique Ramadan goal setting framework that fulfills you without being overwhelming
A mindset shift that to break unproductive behaviour patterns and achieve your Ramadan goals
Developing "Above the Line" productive thinking that keeps you on track with your Ramadan intent and goals
How to get into the right emotional state for lasting inner transformation
A powerful "Learn to Lead" principle that doesn't just make you your productive best, but also inspires those around you to be their productive best
Module 3: Spiritual Productivity
How do you maintain khusyoo during acts of ibadah? What do you increase in taqwa? How do you avoid the trap of just "going through the motions"? Understanding what spiritual productivity is and how it applies practically to your daily life will help answer all these questions and strengthen your iman, In sha Allah.
You'll learn:
The true meaning of spiritual energy and how the concepts of taqwa, ihsaan and tawakkul apply in practical ways to your daily life
Practical tips you can implement right away to achieve spiritual energy
Key Islamic concepts and acts of worship that boost spiritual energy
Key Islamic concepts and acts of worship that boost your spiritual focus
7 spiritual habits to develop during Ramadan that improves your spiritual productivity after Ramadan
Module 4: Physical Productivity
We take care of our cars, our houses, our possessions. But how many of us really take care of our bodies? The fact is your body is the vehicle that will help you attain the next life, and taking care of this tool by which we do everything is crucial -- especially in Ramadan!
You'll learn:
How to manage your sleep and overcome the challenging "night life" of Ramadan -- iftar, isha, taraweeh, qiyam, suhoor and sleep!
Tools and techniques to manage your body, mind, energy and time to have a truly productive Ramadan
Proven practical ways to beat procrastination and manage your wavering focus during fasting hours
Productive meal planning and the best foods for productivity that are crucial to maintain high energy levels, hydration and good health
How to stay fit during Ramadan, the best times to exercise, and finding the right exercises that are suitable for your individual body
Module 5: Social Productivity
Social productivity is all about going beyond yourself and being productive in helping others and benefiting others with your time, knowledge, skills, and physical strength. Learn how to avoid meaningless social interaction and the trap of "The Social Ritual", and transform your social events into a service to Allah SWT.
You'll learn:
The true meaning of social productivity and the practical ways it applies at home, studies, work and in your community
How to make the important intent and shift from a "social ritual" mindset to a social productivity mindset
Fuelling yourself with the right social energy that boosts your spiritual energy and mindset
The smart way to manage your time and energy to achieve spiritual productivity balance between family, work, and community contribution
A Social Productivity Challenge to help the Ummah!
Module 6: Productivity at Work during Ramadan
Ramadan is not an excuse to be lazy at work! Our work is a service to Allah SWT as a means to our sustenance and as contribution to society through our deeds. Learn how to combat the multiple challenges at work during Ramadan, from managing our focus and energy, to creating productive routines and the best ways to handle non-Muslim colleagues.
You'll learn:
Spiritual productivity at work: How to defeat your own mind and overcome the various challenges in the workplace during Ramadan
Physical productivity at work: Practical tips to manage your energy levels, even without coffee or tea!
Social productivity at work: How to discuss Ramadan productively with your boss, colleagues and subordinates and create a new work schedule so you can be your productive best
Learn how to maximise Ramadan to make gains towards your ideal routine outside of Ramadan, and carry greater productivity at work forward into the new year


Module 7: Maintaining Consistency & Developing Lifelong Habits
You've created new productive habits. You've reached new levels of spiritual connection. Alhamdulillah! Now, how do you maintain these new habits so you can continue leading an even more productive life after Ramadan?
You'll learn:
How to put it all together and launch into a more productive life after Ramadan - mentally, physically, socially and spiritually
Practical tips in managing your performance, priorities and resources so that you continue balancing the various roles you play in life productively
How to make productivity an automatic routine in your daily life
Simple ways to change a habit
A powerful technique to trigger your brain into a brand new "Habit Loop"


Sisters Special Module 8: Productive Muslimah in Ramadan
As sisters we're challenged with juggling many roles, such as daughter, sister, mother, wife, student or professional, plus other roles within our friends and community circles. Phew! How do you find time for your own extra ibadah? This Sisters Special tackles your specific challenges to make you the best Productive Muslimah you can be this Ramadan, In sha Allah.
You'll learn:
Overcoming the kitchen dilemma, PLUS easier cooking techniques so you'll spend less time in the kitchen and more time for ibadah
How to overcome the spiritual low on non-praying / non-fasting days with these spiritual boosters to maximise the barakah of Ramadan
Simple tips to plan your diet and time investment to avoid burnout
Fun and practical ways to make iftar parties productive
Special tips on how to get your children to understand the beauty behind Ramadan and take part in the barakah of Ramadan, In sha Allah.

What Students Are Saying About This Couse
"I was having problems achieving my goals during Ramadan, planning and organizing my Ramadan actives, and feeling overwhelmed. After taking the course, [I am] having the best and most productive Ramadan so far since I became Muslim". ~ Liliana Anaya

"I now understand that procrastination can be solved the Islamic way and I have a better appreciation of time management. I especially liked the format of the Ramadan Taskinator. It helped me to track and see what I've done for every ten days and helped me to see my weak points". ~Ismail

"Oh, lots of things have changed in my life. I [used to be] organised but not effective, and had problems with time management, sleep management, nutrition and exercise. Now I am able to manage my tasks according to the salah timings. [The] best part is I have become more spiritually and physically productive. However tired I feel on a particular day, but still I am able get the achievements [done] at least spiritually which I am extremely happy about". ~ Tanweer Zaki

"I gained a better appreciation for my religion, and how I can incorporate it in my daily routine to be the best person I can be. After participating in the [Productive Ramadan] course and checking out the website since the fall, I have learned that if I were to describe Islam in one word, it would be "productivity". How productive can we be with the limited time God has given us to make ourselves and the world we live in better, so that we may enjoy the eternal rewards of the Hereafter?" ~ Rami

"I learnt a lot and I think I have accomplished a lot this Ramadan compared to my 36 years of Ramadan before! :)" ~Putri Khalid

"Productive Ramadan immensely helped in managing sleep, social productivity, some improvement in focus, lot of improvement in discipline, balancing family, large improvement at work place. Alhamdulillah." ~Khasim

"Alhamdulillah I had a wonderful Ramadan! So many sisters and brothers commented to me how I was so full of joy and that my first Ramadan was such an inspiration to them, Alhamdulillah. The tips and planning were invaluable. I prayed taraweeh every night, read the Qur'an everyday, made suhoor all but one day (but still woke up for fajr, Alhamdulillah!), attended iftars in new communities, went to Friday prayer for the first time (I am a very new Muslim), held a mini-iftar at my house with a non-Muslim friend, and started covering my hair full-time by the end of Ramadan, Alhamdulillah! Mashallah, I feel so blessed". ~ J.D.

"SubhanAllah I gained a lot of valuable things. Top of the list : DISCONNECT TIME. I did iti'kaf and stayed away from all technology for the last 5 days completely. It was the best thing ever. I'm motivated to continue to have disconnect time periods." ~Aisha Ibrahim

"I have lots of improvement! Masha Allah. Now I know what are the threats I'm facing during Ramadan, so that I can manage them". ~ Norsaakella

"I now have some easy tips to implement in my day-to-day life (not just during Ramadan). I manage better [in] organising my life (professionally as much as spiritually actually)." ~Marie Morel

"Well, before this course I was doing plenty of multi-tasking, always pressuring myself to accomplish more than I could. I believed I was very well organized and yet I felt empty and tired when it came to [spirituality], especially ibadah. Alhamdulilah, [after this course] I gained much confidence in my abilities by prioritizing my tasks and timings. I felt like a sane human being who can accomplish tasks with gradual improvement. This course has been a beautiful blessing. Jazakallah khair." ~ Wardah Adil
Your Instructor
Mohammed Faris is an internationally sought speaker, coach, and author who spearheaded the niche of productivity and Islam. He's the founder of ProductiveMuslim.com, the popular online platform, blog, and productivity training organization and author of the new book "The Productive Muslim: Where Faith Meets Productivity".
Class Curriculum
Start Here
Available in days
days after you enroll
Module-1: The Basic Preparation for Productivity
Available in days
days after you enroll
Enroll in the Academy NOW to Get This Course + More!
By enrolling into the ProductiveMuslim Academy, you'll have access to this course + all the other courses that ProductiveMuslim produces in addition to exclusive access to our book club, monthly webinars, private facebook group, and more - Enroll today!